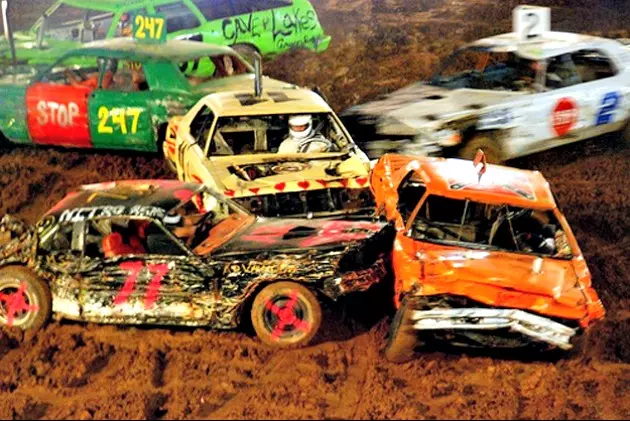 Are You Ready To Crash And Smash In The Demolition Derby?
Thinkstock
The Demolition Derby is coming Saturday, September 9, at the Four States Fairgrounds Entertainment Center. If you want to get in on the action check out all of the details.
This is the 27th year this great event will be here. Smashing and bashing your way to victory, having fun and winning money? Then get your derby vehicle moving and download the rules and entry form or pick it up at the Fairgrounds. Fill out the forms and send it in by fax to 870-772-0713 or drop it by the Four States Fair at 3700 East 50th St. Texarkana, Ark. If you have any questions call the Fair at 870-773-2941.
The competition is open to any passenger-type automobile, sedan or wagon, foreign or domestic, front or rear wheel drive, any year model. No Chrysler Imperials, pickup trucks, Jeeps, truck-based vans, SUVs or 4x4s, limousines, hearses, or other custom vehicles will be allowed. For more specific rules and regulations see the forms.
The winning payout is $3,000 for 1st Place, $1,500 for 2nd Place and $500 for 3rd Place.
Submission deadline for entry is Thursday, September 7, at 5PM. No entry is considered valid until it is returned to Four States Fair Entertainment Center. Entrance fees are $25, fair admission is included.
The 2nd Annual Power Wheels Demolition Derby is for kids aged 4 to 9 years old. It will be held Saturday, September 9, at the Four States Fair Entertainment Center during the Demolition Derby Intermission.
The competition is open to kids driving Power Wheel Cars that they will run into other kids while attempting to win prizes. It's a chance for kids to get involved in the sport and not just sit and watch. The derby is limited to 6 to 12 volt power wheel only. For for specific rules and regulations, see the attached form. All participants will receive a trophy and a prize to be used at the Fair. Best of Show wins $20 and the Grand Prize is $25.