Here's Your First Look at the Empire Magazine 'Rogue One' Photos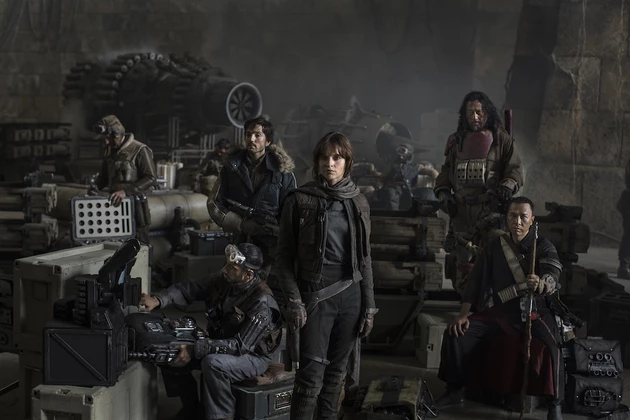 Good things come to those who wait; that's what my mother used to say, anyways. Odds are she was just being polite and not thinking about the first standalone Star Wars movie, but it's a sentiment that certainly applies here. We spent time waiting for the first Rogue One: A Star Wars Story teaser trailer, and then the first and second theatrical trailers, and then we were waiting for Empire Magazine to launch its October issue that has several new images from the movie. It would seem that life as a Star Wars fan is made up of waiting.
Thankfully, though, sometimes all that waiting pays off in spades. Yesterday, the folks at Making Star Wars (via Heroic Hollywood) offered fans a first look at the photo spreads from the October Empire Magazine, and they are looking pretty darn great indeed. You can see the full list of photos at the Making Star Wars website, but here are a few of the images that have found their way onto social media:
Brand new #StarWars #RogueOne images! https://t.co/nBg34eduzv pic.twitter.com/NsVn983gzU

— Ororo Productions (@OroroPro) August 28, 2016
Mais fotos de "Rogue One: Uma História Star Wars" liberadas pela revista Empire – Part 2 #RogueOne #StarWars pic.twitter.com/pFrmzN66yX

— Eu, Astronauta (@astronautasays) August 28, 2016
johnbogeyas: New Rogue One: A Star Wars Story stills from Empire Magazine https://t.co/JdklTa0hhA

— #TeamBuckyBarnes (@AnnaTheSheElf) August 28, 2016
Изгой-Один. Звёздные Войны: Истории (Rogue One: A Star Wars Story) – фото от журнала Empire https://t.co/NB16w53YwV pic.twitter.com/PhDxVWW2cO

— fantmir (@fantmir) August 28, 2016
In previous interviews, director Gareth Edwards had described the tone of Rogue One as being very similar to that of The Empire Strikes Back, and these photos only further add credence to the fact that Rogue One looks like a war movie first and a Star Wars movie second. These shots of Felicity Jones and Donnie Yen suggest career fighters, people who have been waging war against the Empire their entire lives, and this kind of shifts the meter back towards the pre-reshoots Rogue One that people had been talking about. This might be a little bit of a second course correction by Disney, too, bringing the publicity for Rogue One a bit more back in line with what people were expecting after the first Star Wars trailer. It'll be interesting to see just how dark Lucasfilm allows the new movie to be.
Rogue One: A Star Wars Story opens in theaters on December 16, 2016.
Subscribe to Power 95.9 on
Subscribe to Power 95.9 on

Source:
Here's Your First Look at the Empire Magazine 'Rogue One' Photos