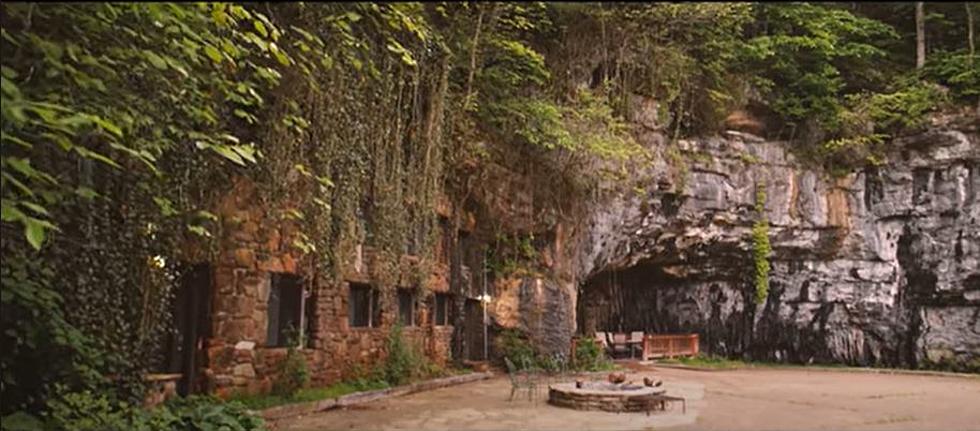 You Can Spend The Night In An Awesome Cave Lodge In Arkansas
youtube
How would you like to stay in an actual cave in Arkansas?
The Beckham Creek Cave Lodge is in the small city of Parthenon Arkansas, between Jasper and Ponca and east of Fayetteville is this hidden gem.
As you can see the cave lodge is surrounded by some awesome waterfalls and mountains. The lodge is between the Buffalo National River and the Ouachita National Forest.
This is a little view from the balcony at just one of the many living areas in the cave.
This is a sitting area that is on the upper level of the cave.
As long as you are not too claustrophobic this bed and its low ceiling definitely give you the true spirit of this unique lodge it is one of four bedrooms in the lodge.
This bedroom is a little more modern with the lit headboard and wooden ceiling.
You can see that this cave is still active and actually has water going down this wall in the living room.
In this view, you can see the dining room and the modern kitchen.
This second living area has a TV and outside windows as well as keeping the charm of the cave with its colorful walls and ceiling.
This bedroom features a stalactite ceiling and some awesome lighting.
Outside of the cave is plenty for you to explore with creeks waterfalls and of course many areas to hike to get close to the natural wonder of the area.
Here are the rates for the Beckham Creek Cave Lodge for $1,600 a night during weekends and holidays and $1,400 during the weekday. Remember this lodge can sleep 12 people so if you all go in together on the weekend it is only $135 a person to find out more or to book you can go to their website for all of that information.
RANKED: Here Are the 63 Smartest Dog Breeds
Does your loyal pup's breed make the list? Read on to see if you'll be bragging to the neighbors about your dog's intellectual prowess the next time you take your fur baby out for a walk. Don't worry: Even if your dog's breed doesn't land on the list, that doesn't mean he's not a good boy--some traits simply can't be measured.
RANKED: Here are the most popular national parks
To determine the most popular national parks in the United States, 
Stacker
 compiled data from the 
National Park Service
 on the number of recreational visits each site had in 2020. Keep reading to discover the 50 most popular national parks in the United States, in reverse order from #50 to #1. And be sure to check with individuals parks before you visit to find out about ongoing, pandemic-related safety precautions at 
www.nps.gov/coronavirus
.