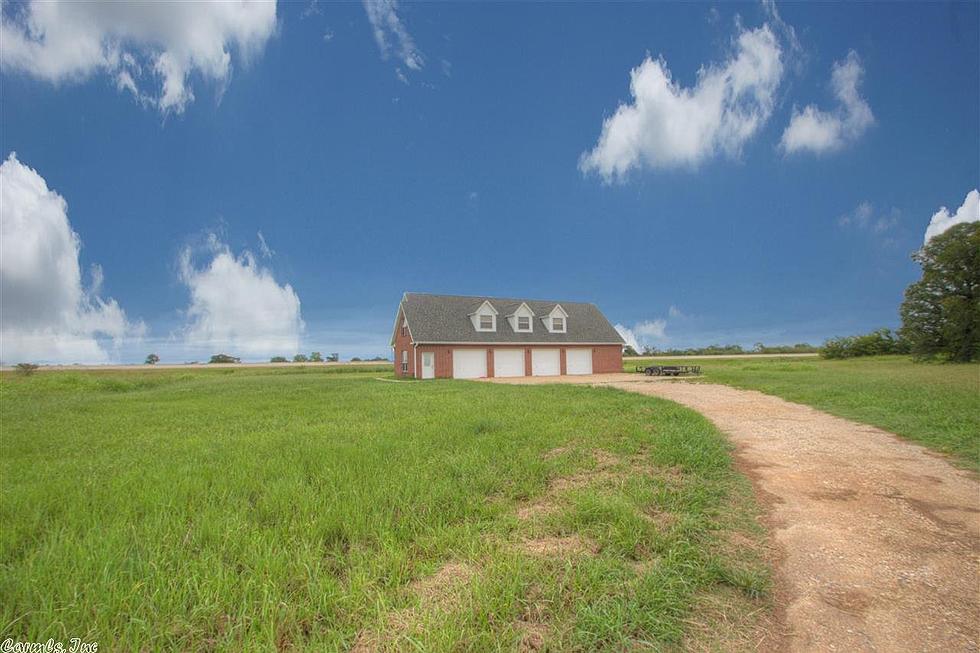 This Unique Home Has The Biggest Back Yard In Texarkana
Brian Henry Remax Preferred
This unusual Texarkana home not only has the biggest backyard in Texarkana, but it also has one of the nicest garages as well.
What do you want when it comes to your dream home? A pool, maybe a big backyard, or how about a garage to put all of your stuff in and keep it safe. Well, this Unique Texarkana home has the biggest backyard in town for sure. How big is the backyard? Well, the total property for sale is 60 acres including a small home that is only 1212 square feet.
The house looks great in this view, but you instantly notice that it has four regular two-car garage doors on the front.
,
Here is a great view of the 60 something acres this house is situated on, including a little creek.
Here is your first peek inside. This is a loft that was built over the garages.
This is a look inside of the living room looking back into the kitchen. There is carpet in the living room, and as you can see it is a very open floor plan with plenty of space.
Take a look at the bedroom. It has some great views of the property and is spacious as well.
Now for a look at the master bathroom. It has a tub and a shower.
Now to the part of the house that gets me excited. I am a car guy and when you see the pictures of this 8 car garage all I can do is think of all of the stuff I can put in there. There is plenty of room for everything including a man cave with a TV and some cool video games. Take a look at all of the space this garage has to offer.
.Here are some more details on this property. It is listed at It is a 1 bedroom 1 and 1 and 1/2 bath home that has 1212 square feet. It is located in the city limits of Texarkana. The previous owner has already brought in the dirt and the house pad is ready for you to build your dream home.
To find out more about this property you can visit Brian Henry's website.
LOOK: Famous Historic Homes in Every State
LOOK: Here is the richest town in each state
Just saying the names of these towns immediately conjures up images of grand mansions, luxury cars, and ritzy restaurants. Read on to see which town in your home state took the title of the richest location and which place had the highest median income in the country. Who knows—your hometown might even be on this list.