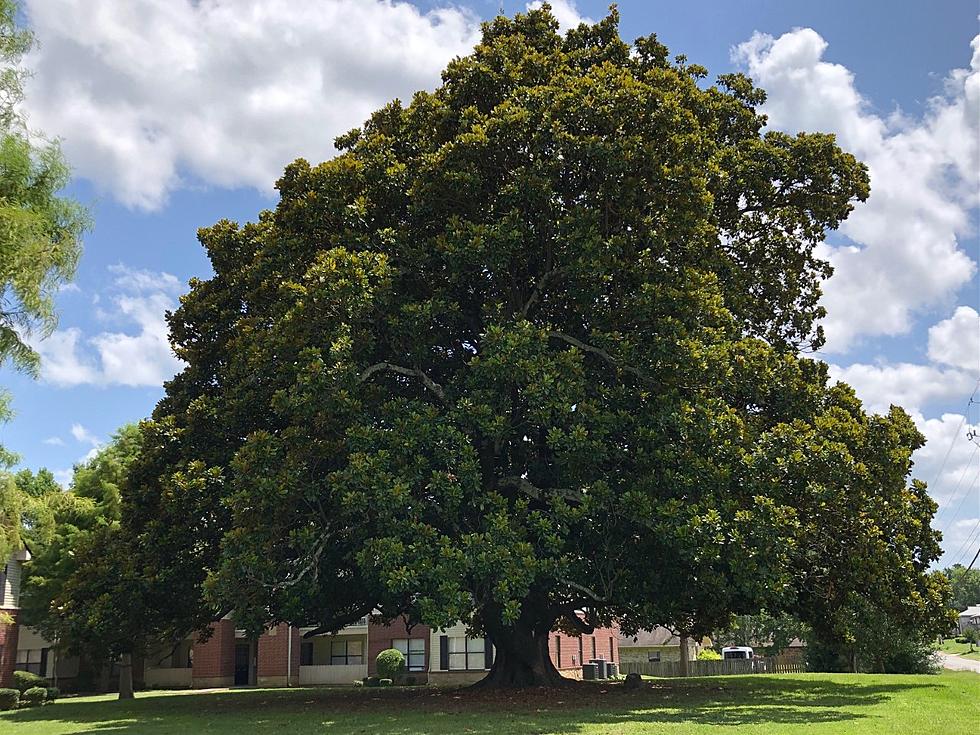 Did You Know That Arkansas's Largest Magnolia Tree Is In Texarkana?
Wes Spicher Townsquare media
Did you know that the largest Magnolia tree in Arkansas resides in Texarkana?
This 'Arkansas Champion Tree' is located in Texarkana Arkansas. It is on the corner of 46th Street and County Avenue. So for us Texarkana folks it is across from Elchico restaurant and on the lawn of the Chapel Ridge Apartment complex.
I took this picture from the parking lot and as you can see this tree is huge. No, really it is huge.
This picture shows the unbelievable size of the trunk of this Magnolia tree. So according to the 'Arkansas Champion Tree List,' the circumference or the distance around the trunk is 219 inches.
This is my hand on one of the smaller branches so you can get an idea of the massiveness of this tree. My hand by the way is XXL and measures over 7 inches from the tip of my thumb to my pinky finger. This particular limb is over 12 inches across.
This is the plaque that designated this tree as the champion Magnolia. How did the tree get the designation of the biggest Magnolia tree in Arkansas?
The "bigness index" is made up of the following statistics according to the Arkansas Forestry Commission.
The Southern Magnolia, Magnolia grandiflora, has a circumference of 219 inches, a crown spread of 82 feet, and a height of 70 feet, resulting in a bigness index of 310 points.
Arkansas has 129 trees that are champions or co-champions of their respective species. I can't believe that I have driven past this tree for years and had no idea of its impressive size.
READ ON: See the States Where People Live the Longest
Read on to learn the average life expectancy in each state.
LOOK: Famous Historic Homes in Every State