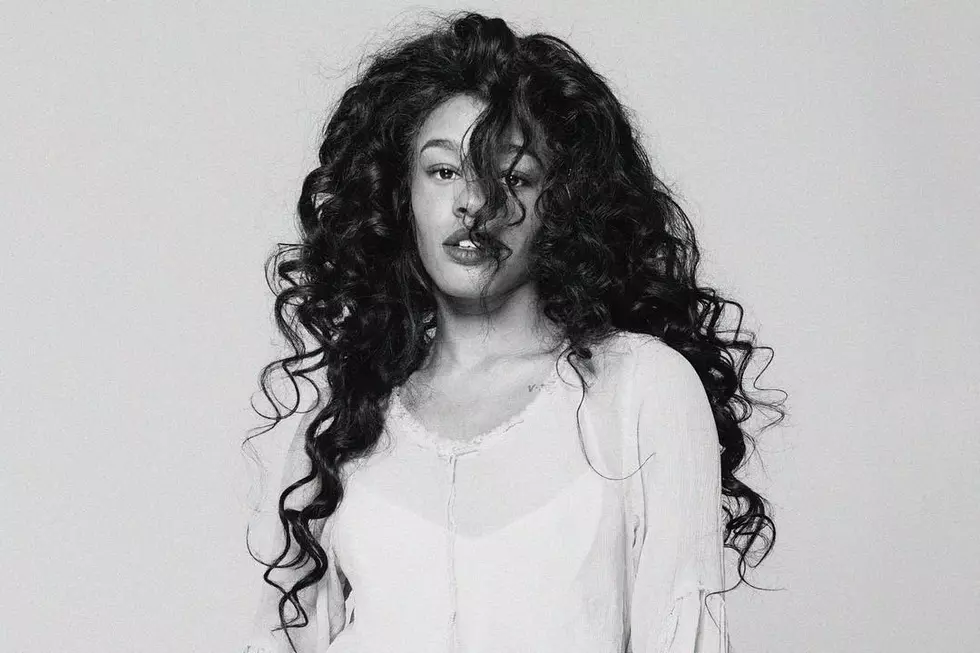 Azealia Banks Keeps It Real About Being Shut Out of the Music Industry
Orograph
On the bridge for Azealia Banks' 2011 breakout single "212," she warns herself she'll be her own worst enemy: "You got a lot, but you just waste all yours and/They'll forget your name soon, and won't nobody be to blame but yourself, yeah."
Six years removed, though the song still sounds years ahead of its time, it could have been a self-fulfilling prophecy. At 17 years old, Azealia signed a development deal with XL Recordings (home to Adele, Radiohead, Vampire Weekend) in 2009, after gaining attention with early tracks she posted on her MySpace page the year before. They flew her to London and she recorded a couple songs she liked with label owner Richard Russell, but once she was back in her native city of New York, she ran out of money and fell out of favor with XL, who didn't seem to want to release any of the music she was making. By 2010, she'd parted ways with the label, and though they temporarily reunited the following year, it never worked out.
Facing eviction with her cat Lucifer, she fled to Montreal in 2011, to crash on the couch of one of many managers, Michael DeFreitas. That summer, they shot a video for "212," a song she'd written a month before getting evicted from her apartment on Dyckman Street in the Inwood neighborhood north of Harlem, N.Y. "It came out of a place of desperation," she said of the song in a 2012 interview with SPIN. "But it also came out of a place of anger. It was like, 'Fuck all y'all. I'm the best bitch here.'"
The song found its way to BBC personality Nick Grimshaw, and though Azealia was soon approached by everyone from Sony Music to Kanye West, she eventually landed at Interscope Records via Polydor after Interscope chairman Jimmy Iovine and executive vice president of A&R Larry Jackson took a liking to her.
But it was around that same time (circa early 2012) Azealia began building a reputation for beefing with artists on Twitter. It started with Kreayshawn, and then Iggy Azalea, and then T.I. Soon, she took shots at Troy Carter, who briefly managed her, as well as Lil' Kim, Nicki Minaj and Angel Haze. Not all of those beefs were Azealia's fault (and she even apologized to Kreayshawn soon after), but as an outspoken Harlemite with a fiery New York attitude, she was quickly branded as a spark plug. Meanwhile, she needed another single.
According to Banks, Iovine and Jackson granted her artistic freedom, but it was Polydor who wanted another "212" and decided to push "ATM Jam" with Pharrell in 2013. The single didn't do as well as they hoped, however, and Banks blamed Skateboard P for its failure: "The reason ['ATM Jam'] did poorly is because Pharrell changed his mind about wanting to be associated with me after he had his lite skin comeback," she said on Twitter that November. By early 2014, she was complaining about "having to consult a group of old White guys about my Black girl craft" and lamented over people at the label who "don't even know what they're listening for or to." Around the same time, Iovine and Jackson were on their way out the door to Apple, and by mid-July, Banks was off Interscope entirely.
Later that year, she finally released her official debut album, Broke With Expensive Taste, after numerous delays, and though critics at outlets like XXL, The New York Times and Pitchfork applauded the album, it didn't do well commercially. She went dark and resurfaced in 2016, with a new project called Slay-Z, and though her mainstream popularity had diminished by then, the project still wielded a semi-hit with "The Big Big Beat," proving her music and her fan base were still strong enough to yield substantial results.
All the while, Banks never bit her tongue, for better or worse. In one of the most emotionally raw moments rap has seen in years, she started crying during an interview on Hot 97 with hosts Ebro Darden and Peter Rosenberg while talking about systemic racism and the issue of Black erasure in music. "They're trying to erase us," she said through tears. "All of our books and scriptures, everything we are supposed to know about ourselves. Gone. Like, completely fucking gone."
Mainstream media seemed to capitalize on the moment for nothing more than sensationalist headlines, but Jeff Chang dug deeper into Azealia's comments for The Guardian and Jezebel's Clover Hope said "it's hard not to root for a talented Black woman who challenges an inane system."
Hope's distillation is the core issue with being an Azealia Banks fan. Banks has always been outspoken in a country that consistently puts down Black people, and though she's often telling the truth, she's rarely been able to hold her tongue enough to court the general public's favor—and she doesn't seem to want to. She can be politically incorrect, sometimes offensive and occasionally self-contradictory, but she never seems fake.
Now, despite controversies involving perceived support of Donald Trump and sacrificed chickens, Azealia's music is still resonating. Her newest single, "Chi Chi," is one of the most singular songs of 2017 so far, showcasing how sharp her raps still are, while another new song "Escapades" flosses her continued pop sensibilities. She's even re-released Slay-Z on iTunes via her own new record label, Chaos & Glory.
In June, XXL spoke to Azealia Banks about her upcoming projects, getting blackballed in the industry, her skin-bleaching controversy and more. Below is that conversation.
XXL: How did "Chi Chi" come together?
Azealia Banks: "Chi Chi" is produced by a really close friend of mine named Jonathan "New Work" Harris. And we've been friends since I was a young, young, young kid. He actually introduced my very first rap track ever. The first time I ever wrote a rap, he was like "Okay, I'm gonna spit it." And the studio time was like, $35 an hour, and we were recording in this kid's closet. He just kinda pushed his clothes aside and we recorded. And that song was "Seventeen," that was my first track, and Johnny 5 actually recorded the very first take of "Gimme A Chance." All of those old Miss Banks tracks, like "Seventeen," "Gimme A Chance," "Hood Bitch," Johnny 5 engineered all of those.
We were both super amateur back then, but I think "Chi Chi" is kind of a testament to both of our artistic growths. Because we've been friends for so long and we also worked on some tracks for Broke With Expensive Taste together. You know, when I go in and I have my writing sessions and have my music sessions, Johnny will come down and we'll do things together. But "Chi Chi" is kind of like… I don't know, we were both kinda fucking around one night. We don't live too far away from each other, we probably live maybe like, 40 blocks away from each other. And Johnny will come uptown and we'll hang out, watch TV or whatever, and one day Johnny was randomly like, "AB, I made a beat." And I was like "Sure, whatever, fine. Play it." And low-key, I was kind of expecting it to be wack [laughs], and he played it and it was hot as fuck, and I was like, "Oh shit, Johnny!" I was just extremely proud of him so we just kinda went off that and yeah, came up with "Chi Chi."
When did you write and record it?
We wrote a bit of it maybe a year ago, and then I kind of sat on it, and a friend of mine was like, "AB, you need to finish that song." It just felt appropriate one day to finish it, and then we released it.
And there's a video for it in the works, right?
Yes, we do have a video for it in the works. I don't wanna say too much about the video just because, you know, I have a habit of saying too much [laughs]. And I don't wanna jinx anything this time. But yeah, we do have a video in the works, and it's gonna be really... eye-opening.
I have a song that I did with Safaree Samuels. Actually, it kind of came out of nowhere. I guess people are like, "Oh, that's rivalry," because it's Safaree, but honestly it's just industry shit. I assumed that he played a part in [some of] Nicki Minaj's hot singles, so I was like, "Shit, we should definitely go to the studio together." But it actually turned out [to be] me writing for him. So Safaree and I put this song together and I wrote a bunch of his part and it's really fuckin' hot.
What are some of the new projects you're prepping?
We're gonna be redoing Slay-Z, just because there are a couple of songs on Slay-Z that didn't really get their chance, and I think that, coupled with some new material, Slay-Z can actually have her moment in time. Then after that, it's Fantasea II, which is gonna be an album instead of a mixtape. It'll be a follow-up to Fantasea. Then after that, it's Business & Pleasure, which is the proper follow-up to Broke With Expensive Taste.
Who are some of the artists you've been working with?
A lot of the stuff I've worked on has been via satellite, people will send me beats and stuff like that. I've worked a bunch with this house duo from L.A. called NEWBODY, they're really cool. I did some more Lone records, of course. I worked with this cat Aiden from California. Random story, I met this cat driving a freaking Uber. I got in an Uber and he was playing something and I was like, "Holy shit, who the fuck is this?" And I was with my friend, and we were just saying earlier how I need new beats. I meet this kid in an Uber, and we spend two weeks together and do a record with NEWBODY and made a couple other songs, which were really cool, but it's a crazy story.
I would say I'm actually a witch, because it was just in my head, like something I had on my shoulder, like "Ugh, my beats suck. I need new beats." And then I met Aiden in the car. He's from Azerbaijan. I've never met anybody from Azerbaijan. As some chick from Harlem... I was like, shit, you can make music like this? I don't know if that sounds really ignorant, but I don't mean it to.
Do you have people within the spheres of the music industry you used to be in who still support you, or do you feel like you're kind of shut out from where you were now?
I'm definitely shut out from where I was, 100 percent. People are very scared to be associated with me because of, you know, the controversy, I guess the skin bleaching or the "sand nigger" or the "faggot" thing. I'm not sad about it, I'm not disappointed at the situation. I'm disappointed with myself for sure. I'm a little disappointed in them, but not really.
I guess the source of my disappointment comes from just watching lots of other men in hip-hop, just like male rappers, have their career setbacks and go through things. Or even when a Black male rapper misspeaks something... just seeing Black men go through the motions, seeing the Black mass just kind of seemingly accepting it as just an attribute of their artistry. So they'll be like, "Kanye West is saying all that because he's crazy" or "Okay, yeah, R. Kelly raped a girl but damn, he makes some good music." I don't feel like I ever got that kind of empathy. I never got those kinds of privileges, I never got those kinds of allowances, especially coming in the rap game without any real rap friends. I basically came in the building by myself. There was nobody to validate me, there was nobody to vouch for me or whatever, and I got mishandled a lot.
It made me really bitter for a very long time, very, very, very bitter, so bitter to the point that I would just kind of say things that I didn't mean, like, "I hate Black men" and shit like that. I would just say things like that because I would just feel so misunderstood. It was all purposeful, like when T.I. was threatening me with physical violence or when Jim Jones was threatening me with physical violence. Come on, hip-hop should have said something about it, and nobody said anything about it.
Even now, you guys have this guy XXXTentacion on the [XXL] Freshman cover, but he's tweeted about how he thinks Black women are roaches and that we should die and how dark people are roaches and we should die and shit like that. It's discouraging, and I'm not afraid to cry about it or afraid to admit that it hurts me now, rather than just going about things the wrong way and trying to fight fire with fire.
We have a woman named Kamaiyah on the Freshman list this year, and she's all about not over-sexualizing herself and...
I don't know, but you guys should have had Cardi B on the cover, to be honest. From what I see, hip-hop is very biased in general, and I can tell that certain people are picked because there are certain people in position, other people aren't picked because maybe they won't kiss a certain ass or whatever, but Cardi B should have been in the Freshmen for sure. I'm not trying to hate on Kamaiyah, I don't know who she is, but I mean... you guys should have had me on the Freshman list. You should have had Cardi B on the Freshman list.
Okay, this is not going to be an XXL critique, but hip-hop media misses a lot of its own cues in curating itself. It kind of relies on these money marketing machines to curate hip-hop, or the money marketing machines are kind of relying on Black culture and they're relying on us to set the tone. But money is money, and you know, money talks. I feel like there just needs to be a little bit more integrity with hip-hop media. I feel like it's like, okay, we're gonna support X, Y and Z random rapper just because they're gay or just because she's overweight or just because this person is... I don't fucking know, whatever it is. You get what I mean? I feel like hip-hop kind of makes fun of itself a lot and leaves a lot of its good parts to kind of rot on the side.
Hip-hop often feeds into the gimmicks its given by marketing people or label people. 
It turns into a huge fucking problem, because you see the culture and you see these great artists kind of die very early artistic deaths because they're getting into the business of being the best impression of themselves. And that's what's happened to Kanye West, that's what's happened to JAY-Z, that's what's happened to a lot of rappers. That's what's happened to Nicki Minaj. Drake is doing his best impression of himself time and time again.
I love Eminem. Eminem gets it. When he doesn't have anything to say, he doesn't say anything at all. He doesn't cloud the hip-hop music hemisphere, he doesn't use his socioeconomic methods to cloud this sphere with himself just because he wants to kill whatever up next, popping thing is happening. You see Kanye do it all the time. He uses his socioeconomic leverage to latch on to some other young act when it's like... you know, it doesn't help culture go, because what you have is these same 10 faces at the front of every cultural movement. It's not healthy.
What female MCs are you supporting right now?
I really, really like Cardi B. I followed Cardi B on Instagram before she started rapping and I was like, Oh my God, this girl just reminds me of all the girls I went to middle school with, all the girls I grew up on the block with, all the Dominican babysitters. I grew up with girls just like Cardi B. So I always thought she was funny, and when she started rapping, I was like... what is she doing? Then I heard "Foreva" and I was like, Okay, this is really fucking good, she's not playing. Then I heard a couple other songs and I was like, Oh shit, Cardi's not playing! And now I'm a fan of Cardi B's music and her personality.
I like Remy Ma too, I like when her whole brand isn't anti-Nicki. I think she gets a little carried away with that. I don't know, maybe I like Cardi and Remy just because they sound like home. Like I know that girl, that uptown, Manhattan, Bronx girl. I think that's why I like them the most.
Do you feel like female MCs need to sexualize themselves now to get popping? 
No... look at Young M.A. Look at DeJ Loaf. DeJ Loaf came out with a fitted and a gun, are you kidding? And we loved her. Da Brat came out with baggy shit all over. Queen Latifah came out with a fucking high-top and African garb and we loved it. It's about the spirit of the person, it's not about what they're wearing. If you don't have it, no matter what you put on, it's not gonna fucking matter. No one's gonna fucking care, to be honest. People nowadays aren't that stupid. They're not stupid anymore, they're very aware.
How would you describe the music you're making now?
The music I'm making now... I can feel myself maturing as a woman. I can feel myself becoming like my mother, in a sense. I can feel all of her tastes. All of the tastes she had when I was really young... I can feel myself appreciating all of those now. When I started rapping, rapping was my side hustle. Like my Cheapy XO thing [website]... I was just like fuck it, I'm just gonna rap and it might blow up and then I'll start singing. I can rap or whatever, but if XO blows up, y'all can just have this rap shit [laughs], I don't fucking care. But rapping was a side hustle for me, and I feel like I lost a lot of time...
I could have stayed on the little Broadway junket circuit and kept auditioning and whatever, but I started rapping and blew up as a rapper. The persona that I created for my rap self kind of helped me discover a lot of things about life and the world and all that other shit, because seriously, I wasn't fully aware of my Blackness until I got famous. It was a thing but it wasn't a thing. When you're going to art schools and drama schools and you're the Black girl, it's kind of just like all the teachers cast you in the Black role, like they'll pick scripts like Raisin in the Sun for you or just scripts that are written for Black people. You just kind of understand that as a normal thing, like I'm Black and they're White but we're all friends and we all get together and that's fine.
I didn't realize [being Black] as a thing that would hold me at a socioeconomic disadvantage until I got into a position to accumulate money or capital or equity or shit like that, and I would just see what I was being paid versus somebody like a Lana Del Rey was being paid. Back in theater school, I was the queen of the school because when you're the Black talented girl doing really fucking well, everybody loves you, so you get rewarded the most. So I guess I came out of high school with this understanding that I am the best and nothing is beneath that, and to come into this other realm where socioeconomic leverage was a real thing. Because when you're going to LaGuardia High School with a bunch of rich White kids, they can't use their socioeconomic privilege to beat you out of a role. It's all about talent and hard work, but when you get into the real world, X, Y and Z label can use their socioeconomic leverage to beat me into a fucking role, and it was very eye-opening.
You mentioned your mother's taste influencing you more as you grow older. What are some of her tastes, or what were some of her tastes?
My mother really, really likes Ella Fitzgerald, and my mother really likes DMX and she really likes JAY-Z. My mother also really likes Whitney Houston and Janet Jackson, and she likes Billie Holiday and Etta James. She likes DeJ Loaf a lot, she likes Young Thug a lot, she likes Migos. My mother knows a little more about hip-hop than I do. She was the one that showed me "Bad and Boujee." She actually introduced me to Kodak Black. She showed me who Rae Sremmurd was, because I remember I had that interview and I didn't know what they looked like, I just knew I liked their song, and she was like, "No, Azealia. You gotta get into this."
[My mother] knocks me off Spotify all the time. She loves DMX. She wants me to work with DMX and Chaka Khan [laughs], but not together. She wants me to do one song with Chaka Khana and one song with DMX. I'd totally work with DMX. Sometimes I play A&R, and I've had this vision of [Future's] "Mask Off" being a DMX song. Think about it. That's so hot, right!? That's fire as fuck! If "Mask Off" came out as a DMX song? He would have been touring in Eastern Europe for the next 10 years. They love him over there. DMX has to come back. I don't see it for this little XXXTentacion motherfucker. I don't see it for him. I see it for DMX only. I love him, DMX makes me want to bash my head into the fucking wall, just tear all my hair out.
Are there other people you want to work with that you haven't gotten to yet?
I do wanna work with Chris Brown. I really, really like Chris Brown's artistry. I know, controversy, or whatever the fuck, but I really, really love Chris Brown's music. And I think he has a really cool ear, and I would like to give him some options and see what he thinks of them. I think his musicality is intelligent enough to break away from that L.A. R&B sound, and I would like to do something with him like that, out of that lane.
I wanna work with French Montana. I wanna work with Styles P again, because I really like Styles P. Jay-O... and Mariah Carey. And Janet Jackson!
Do you have any plans to tour? 
Well, I definitely want to put some new music out and then see what happens, sign a deal, get a booking agent and try and keep cool and not get in trouble so I can tour.
What are some of the obstacles you find yourself facing in the music industry today?
Just the media itself 'cause clearly, everything is owned by White people—I'm tired of talking about White people. These media conglomerates have this socioeconomic leverage, and they can orchestrate any industry, and any story or any happening the way they want to. The music industry isn't the only one that's subjected to it. Hollywood is subjected to it, tech world, everybody. It's just the media in general. I feel like it's everyone's biggest problem.
Even for people who are succeeding at playing the media game. They're always crying about how they feel stifled and all that other shit. I think in the coming years, [the media] is gonna prove to be very detrimental to society's social and psychological health.
I think the media does a lot to chastise people into… or just micro-manage people's aggressions and chastise people into forming opinions. Especially in America, where the media is such a big part of our culture. Because we really drag ourselves down into Prozac nation on fucking steroids. But nobody cares, I'm just the Black bitch from fucking Harlem [laughs]. I'm just a Black bitch from Harlem who only puts out one song a year. I'm joking.
Was there a big lesson that you walked away from Interscope with? Like after being in that system did you come to a realization or learn something you didn't know before?
Actually, I didn't walk away from Interscope. I walked away from Polydor. Polydor, they weren't trying to put out my singles. They wanted me to do the "ATM Jam" with Pharrell, and Pharrell felt like the controversy was too much, so he completely fronted on the whole thing. Meanwhile, that came out of my budget. It was $40,000 to get this beat from Pharrell, which was a leftover that he had sent to Mac Miller. He had wanted me to write it for Beyoncé. Basically everybody had this beat. I'm the only one who could come up with something for it, so Pharrell basically haggled my label into giving him the $40,000, and then he just ghosted on the entire thing.
So here I am stuck with this shitty single that I can't promote because the guy who's on the record won't help me promote it, and that was supposed to be my first single. And that was Polydor. Polydor's decision was to go with "ATM Jam." A long time ago, like a year before "ATM Jam" came out, Jimmy Iovine said "Miss Amor" was the first single. Now, Polydor was upset because they put all this money in the deal for me to move to London, but I made friends with Larry Jackson, and I felt more comfortable with Larry Jackson, so I just stayed in L.A. with Larry Jackson and Jimmy. That kinda caused a lot of tension with Polydor, and they used their power just to kind of fuck up anything. Jimmy Iovine literally said "Miss Amor" was the first single, and Polydor just wanted to be contrarians, and they used their power like some bad sugar daddies. They used their power to say that "ATM Jam" had to be the first single, and that's why everything fell apart.
For so long I wanted "Miss Amor" to be my awakening moment. And I still haven't been able to have that moment. I wrote a script for "Miss Amor," I had a mini-movie, I rehearsed it. I had the girls, I had the choreography. All I need now, at this point, is the money to shoot this mini-movie that I wrote. But, I could have done all of this when I was on Interscope and had the budget, had Jimmy Iovine been able to do what he wanted to do with me.
And here you have everybody making fun of me because I got dropped. I didn't get dropped. Actually, Polydor had to pay me to exit the deal. They had to pay me £600,000 [$777,000] to exit that deal.
That's crazy. Larry's a cool ass dude.
Yeah, and it kinda sucks because had Larry, Jimmy and I been able to do what we wanted to do with Azealia Banks, Azealia Banks would've been a fucking star right now. It's ironic because the U.S. side wanted to do all of the non-contemporary songs, and then the U.K. side was like, "Oh no, we need another '212'. You need to talk about pussy." The U.K. side was trying to make me into some stereotypical, Black thing. Whereas Jimmy Iovine OK'd "Liquorice" video. Here's a girl singing about herself versus the world, the White man and all that. Jimmy Iovine OK'd that.
Jimmy Iovine was like my saving grace, but then his hands were tied because he was going to Apple, and I don't fuckin' blame Jimmy, like, come on. He's been doing this, dealing with fuckin' artists, his whole life. Of course he wants to go and sell headphones and be fucking married. I would fucking too, I would be like, fuck this shit. Like, you know how many times niggas probably tried to run up on Jimmy Iovine with a fucking gun? That man is done, he's like, "I'm done with you fucking rappers, OK? I've had enough of you fucking rappers." I don't blame anyone involved. And of course Larry left, like, go take that fuckin' job. Duh. Shit, but if I had the chance to do it all over again I would've signed with Larry and Jimmy and took half the money and just signed to Interscope. The reason I got so much money was because it was a joint deal. Everyone was fighting over Azealia Banks at that time. And of course I milked it! [laughs] But thinking back now, I would have just taken the deal with Jimmy and left the U.K. out of the deal altogether.
Can you imagine "Miss Amor" coming out in 2013 as an Azealia Banks single? I still feel like there's time for me to do a video for it and still do a film for it because there's a cult following around it. Maybe it'll be a hit after that. That was supposed to be the first single off Broke With Expensive Taste, and she never got her moment. I'm so artistically frustrated behind it, because I never felt like I got to tell the story about myself to the public, which is what the mini-movie was supposed to be. Everybody's been narrating the Azealia Banks story except for Azealia Banks.
What's your vision for the Cheapy XO brand?
My vision for the Cheapy XO brand is to really be like… You remember those old school, novelty shops in Harlem? Where you could go in there and get candy, get lanyard, get comic books, Barbie dolls, jacks, Silly Putty. You remember Hobbyland? I want Cheapy XO to be like Hobbyland. There's a store in Japan called Kittyland that I'm really obsessed with. I fucking love Kiddyland, like oh my God, I just bust a nut every time I got to Kiddyland. But they have all these little cute anime things and anything you can think of, it's like all of these little characters on it. And I kinda wanted to do my own Black girl version of that. I thought it would be cool to take that whole kawaii style and just bring out really interesting products, interesting themes. There's soaps, there's body peels on there. I want it to be like a Ricky's kind of thing.
I want it to be fun, and most importantly cheap. I think I've found ways to not overcharge people for simple, basic things. An ingredient like retinoic acid is so cheap to buy, yet if you buy a product on a shelf with retinoic acid in it, it'll run you $112. But my bar of soap is $10, and it'll actually last you for a very long time if you use it properly. So it's all about playing the market against itself, and just offering quality goods at really low prices. It's important, especially since my fans are young girls. If you go to the beauty supply store, one pair of eyelashes are like $7. That's a lot of money for one night of lashes.
There was a lot of controversy around your skin-bleaching. 
Well, I actually do have one skin lightening soap. It's called Miss Amor, but that's not the whole point of the Miss Amor movie, it's a completely different thing. Skin lightening products can be used however you want to use them, you know? If you decide you want to take this skin-lightening bar and rub it all over your whole body then fine. Most people... it's a treatment for things that are related to the detention of dead skin cells.
So some people who are overweight may have a black ring around their neck, and they'll put the soap on their neck and the skin will come off, and then they won't use it anymore. Or someone will maybe have bacne, black elbows or black underarms, and they'll put it on their underarms and it will sloth off all the dead skin cells. Again, if somebody wants to take the soap and rub it all over their fuckin' body, then that's their prerogative. But the soaps are meant to be used as treatment, so you can use Miss Amor in your inner thighs. Some women have darkness in the inner thighs. Especially a lot of gay men, they feel really self-conscious about their genital area, like the butt, under the butt. In between the thighs they'll have darkening from tight jeans rubbing, so they'll wanna rub it in there and smooth the situation out.
For me, it's not about changing the skin tone, it's more about having uniformed skin. And when you saw me going through all the colors and the different skin tones, that was me testing the market myself. You need to test everything in the market, especially if you're going to be doing this to kinda understand what the user experience is going to be like. I too have a little bit of a problem with acne flare-up due to a birth control I took, and my whole face just burst out. My face, my back, and I was just so desperate to get this shit off my face. So I started trying things. There were some things that made it worse, some things that made it better. But eventually, I just picked up an interest for it because I have my own problems to fix. And I started mixing things and making soaps, then I came up with these little formulas and I send them to a factory to have them made. A lot of people who are like, "Oh, you make your soap?" They think I'm putting fucking sugar and salt in my bathtub. I'm not... well, I did at first, but I didn't sell any of my soap, I just had it made by a factory.
I have products for men. Especially a lot of Black men who have ingrown hairs on their chins or the back of their necks. I have peels for that. People have corns, bunions, stretch marks. Just anything that relates to the retention of dead skin cells, Cheapy XO has something for that. Next phase will be eczema and psoriasis.
See Fans' Predictions for the Hip-Hop Songs That Will Rule Summer 2017