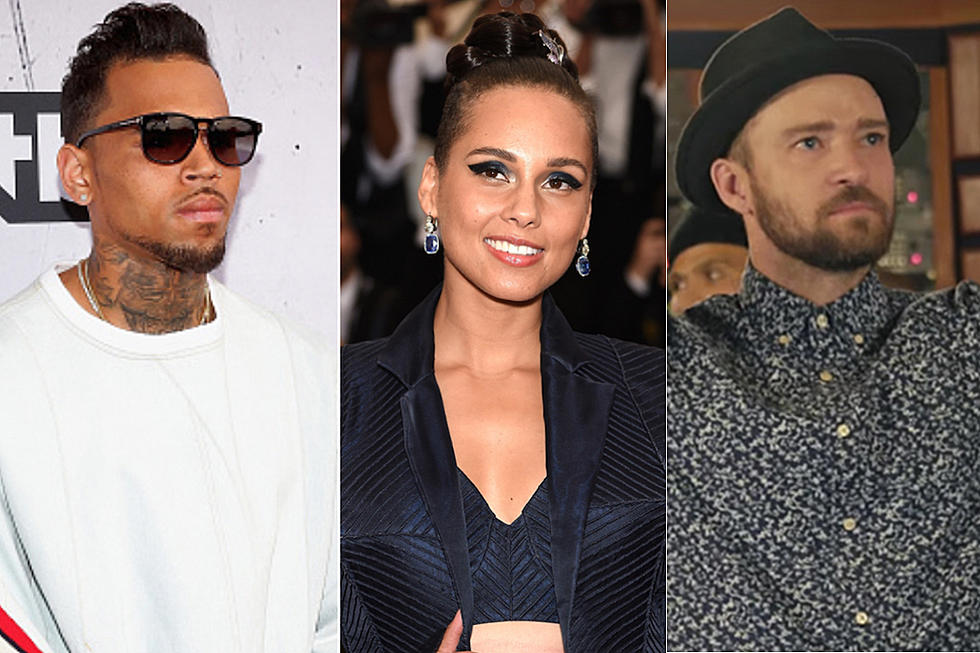 Best Songs of the Week: Chris Brown, Alicia Keys & Justin Timberlake
Jesse Grant, Dimitrios Kambouris, Getty Images / YouTube
It's the weekend! We have a playlist of good music to help prepare you for the impending turn-up or to just fall back and rock out to with your friends. We've got you covered with The Boombox's Best Songs of the Week, where we bring you some of the noteworthy tracks of the past seven days.
Last week's lineup featured new songs from Nipsey Hussle, Boosie Badazz and Kid Red. This week we managed to keep it R&B with three songs that caught our ears.
Listen and enjoy our playlist below.
3

"Grass Ain't Greener"

Chris Brown

Despite becoming more known for tabloid fodder than churning out hits, Chris Brown remains one of the biggest stars in all of music. While being less than a year removed from his last release, Royalty, Breezy is gearing up for his next album, Heartbreak On a Full Moon, with his new single, "Grass Ain't Greener." The mid-tempo song features Breezy warning the players out there not to lose the happiness they already have at home chasing more attractive pastures. Liberated in celebration of the singer's 27th birthday, "Grass Ain't Greener" could become one of the hottest songs of the season.

2

Guess who's back? Alicia Keys returns with a new single, "In Common," which should make her devoted fans very happy. The song is a Caribbean-flavored heater that is sure to keep dance floors ablaze all summer and is a pleasant surprise for those who may have been expecting mid-tempo fare from Keys. With an upcoming album release approaching and a few high-profile performances scheduled, it's safe to say that the R&B piano diva is looking to make her presence felt again. Keys makes a heck of a first impression with "In Common."

1

"Can't Stop the Feeling"

Justin Timberlake

2016 has easily been one of the more eventful years in music that we can recall and it's only gotten greater now that we have new music from Justin Timberlake. Having taken a break from the music scene after his 2013 album, The 20/20 Experience, the former N'Sync member has returned with his first new song in three years with the upbeat tune, "Can't Stop the Feeling." Recorded in support of the upcoming Dreamworks film, Trolls, the song is tailor-made for getting loose while living carefree and should be inescapable by the time summer is in full swing. Lyrics like "I got that sunshine in my pocket, I got that good soul in my feet" bring to mind a good time and good vibes. This is a fun track from JT.

BONUS

10 High-Profile Record Deals That Went Bad

[gallery ids="218258,218259,218260,218261,218262,218263,218264,218265,218266,218267" galleryid="625:218257" galleryindex="0" enablefullscreen="yes" showthumbs="no"]