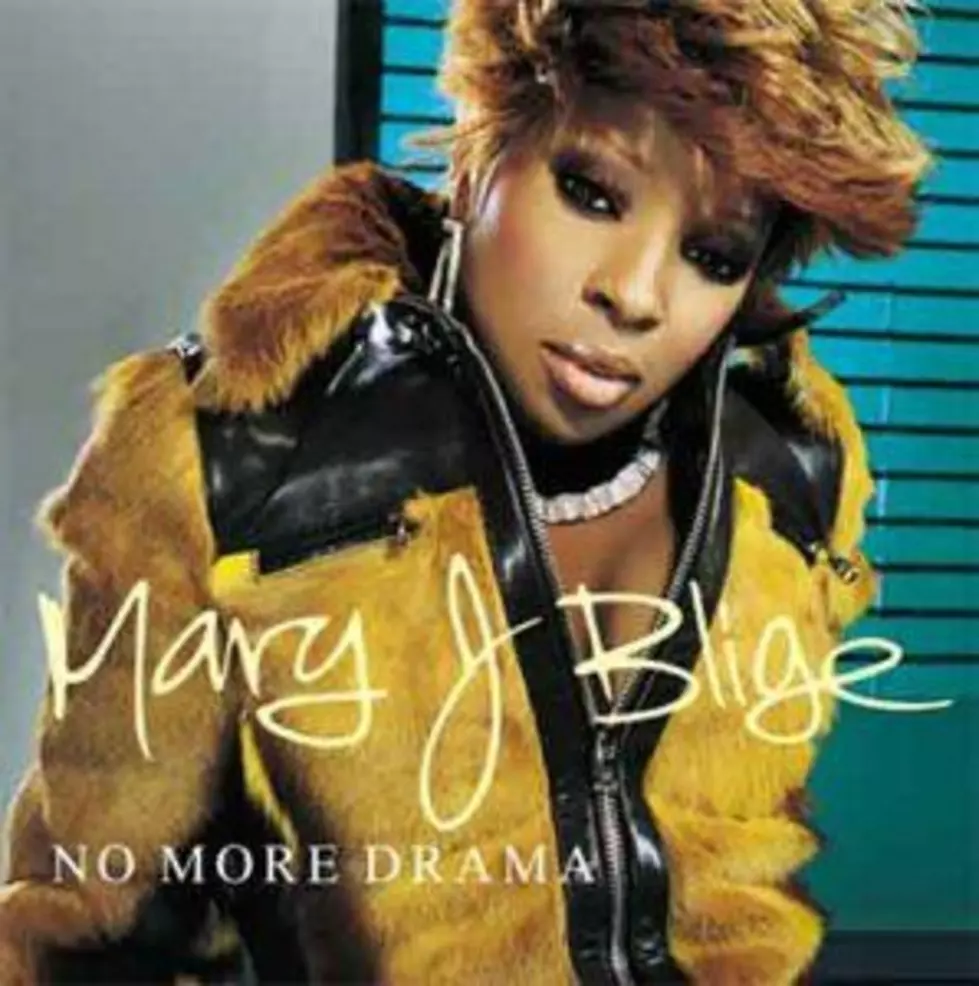 Mary J. Blige's 'No More Drama' Signaled A Rebirth for the Queen of Hip-Hop Soul
MCA
By the turn of the new millennium, Mary J. Blige had already established herself as the preeminent female R&B singer of the hip-hop generation. Artists like Mariah Carey, Whitney Houston, and Brandy may have been inescapable on the pop charts but Mary had proved that she was the mainstream voice for around-the-way girls with her popular and acclaimed first three albums, What's the 411, My Life, and Share My World.
While those three albums, heavily informed by the pain and anguish in Mary's personal life, helped define a decade of R&B, the emotional scars had taken a toll on Mary, leaving her grasping for any sign of joy and love while navigating the darkness. In need of a fresh start, Mary gave herself an intervention with her fourth studio-album, 1999s Mary, which contained introspective, soul-searching cuts like "Deep Inside" and love-gone-bad heartache of "Your Child."
But after putting all of the drama of the past behind her , Mary J. Blige returned in 2001 with No More Drama, a title that embodied her state of mind after battling her demons, weathering the storm, and coming out the victor. Released that August, No More Drama would present a slightly sunnier version of Mary J. Blige than fans and critics had seen up to that point; while still containing signs of the grit and passion that had caused both to gravitate to her music.
Mary comes out swinging on the No More Drama opener "Love," but misses the target in embarrassing fashion. Giving a former lover the boot and demanding her respect, the Yonkers native signals her return while getting listeners ready "for the loving of a life-time" with this introductory cut that comes up short in terms of replay value. Co-produced by former rapper Kwame (under the name K-1 Million) and Ron "Amen-Ra" Lawrence, the track employs flighty horns, ominous drum-kicks and steady snares, but the sounds fail to mesh together, making for a lackluster soundscape that is heavy-handed and plodding. Lyrically "Love" is serviceable, but Mary J.'s attempt to showcase her rap talents is botched, as her rhymes fail to connect with the spotty production, making for one of the more atrocious album intros of the legend's career to date.
No More Drama gets back on course with the album's second offering, "Family Affair," which pairs Mary J. Blige's vocals with production courtesy of Dr. Dre, who delivers a regal and triumphant track for the songstress to toy with. "Come on everybody get on up/Cause you know we gots to get it crunk/Mary J. is in the spot tonight/And I'mma make ya' feel alright," MJB croons after banning any "hateration, holleratin' in this dancery," a cheesy, albeit charming catchphrase that has managed to become a pop-culture reference in the fifteen years since the song's release. The lead-single from No More Drama, "Family Affair" would shoot the No. 1 slot on Billboard's Hot 100 chart, where it remained for six consecutive weeks, giving Mary J. Blige the first chart-topping record of her career and would eventually be deemed as one of the biggest singles of the decade by publications like Billboard and Rolling Stone.
One highlight on No More Drama that emerges early in the game is "Steal Away," a Neptunes produced banger that instantly captures the listener's attention with it's breezy vibe and Pharrell Williams' timely adlibs and opening verse. Purring "I've been thinkin' lately baby/Maybe we should leave here tonight/I've been pushing papers crazy/Even if it's wrong I feel it's right, the producer gives a brief glimpse of his rhyming prowess, a talent which he would further display in the subsequent years, leading to the successful career as a recording artist he enjoys today.
Mary J. Blige also comes through on her end, belting out "You know I really need you, sugar/I want you to make me your wife/I can't wait till we leave out/So we can be together, there's no doubt," perfectly complimenting Pharrell's own amateurish, yet silky, vocals. Boo Bonic, one half of the rap group Philly's Most Wanted, also makes an appearance on "Steal Away," tacking on 16 flossy bars on the third verse and completing the cipher before Mary J. comes back in and takes carries the tune home.
No More Drama's artistic triumph comes in the form of "PMS," an ode to that time of the month that every woman hates. Lines like "Today I'm not feeling pretty/See I'm feeling quite ugly/Having one of those days when I can't make up my mind/So don't even look at me" are a look into the mind of a woman going through menstrual frustration and does a stellar job of embodying the emotions and thoughts that are often a byproduct of it. The proceedings continue to roll along with the album's title-track, which finds Mary J. Blige reflecting on her tumultuous past while looking towards the future. "Broken heart again/Another lesson learn/Better know your friends/Or else you will get burned," Blige laments while gliding across solitary piano keys and sharing her experiences gained pursuing love and loyalty throughout the years. Produced by Jimmy Jam and Terry Lewis, "No More Drama" would be the second single released from the album, peaking at No. 15 on the Hot 100, with it's accompanying video winning the award for Best R&B Video at the MTV Video Music Awards.
"Destiny," a song which further delves into the mind-state of Mary J. Blige, sees the singer pondering what her true destiny is and juxtaposing that with the predictions and opinions of others. Taking a time to count her blessings on "Beautiful Day," the Queen of Hip-Hop Soul gets cherubic on this sunny cut that serves as a stark contrast to the darker offerings on No More Drama. Producer Kiyamma Griffin serves up a keyboard driven track with "Flying Away," providing a quality soundbed for Mary J. to style over, while Missy Elliott adds contributions of her own to "Never Been," a love-lorn offering that's effective in execution.
One of No More Drama's more enticing compositions, "In The Meantime," extends the album's staying power, with boardsman Rich Harrison lacing Mary J. with a plush backdrop, which she commandeers in admirable fashion. After giving off shades of Anita Baker, Blige shares her "Testimony" on No More Drama's finale, revealing bits of her history and rejoicing her new-found glory, making for a selection of victory and redemption.
No More Drama would debut at No. 2 on the Billboard 200, with 324,000 copies sold in its first week. With singles like "Family Affair," "No More Drama," and the late addition, "Rainy Dayz," the album would prove to be a huge commercial success, selling over 3.2 million copies to date, a vast improvement from Mary's sales tallies, which stalled around 2.1 million. But despite the fanfare, reviews for No More Drama were varied, with a majority praising the album, while others were less than impressed. While writer Steve Jones, who waxed poetically about the No More Drama's stronger points in his review of the album for USA Today, noting "Pain and struggle were often the hallmarks of her previous albums, but here she's moving on to better things" and that "Blige's tolerance for lecherous lovers and lazy leeches is gone, and she's taking care of Mary without worrying about others' opinions."
Critic Robert Marriott went to the point of crowning Mary J. Blige as the undisputed winner in the rat race for spot of the top diva in music, writing "Here's an interesting compare- and-contrast: Mariah Carey vs. Mary J. Blige. Where Carey's music has rarely strayed from the pleasantries of butterflies and rainbows, Blige's music has been a soul-baring document of struggle since she debuted with songs such as "Real Love" in 1992," in his write-up of the album for Rolling Stone. Carey, who had previously endured a public meltdown, appeared in the music video for "No More Drama," a sign that all was well between the two divas.
One outlet, the LA Times, was not as enamored with Mary J. Blige's fifth effort, writing "Not as innovative as her early recordings, but "No More Drama" seamlessly incorporates the smoother soul and gospel flavors of 1999's "Mary" with her trademark blend of hip-hop, funk and R&B" in their 2001 analysis of the album. All critiques aside, what cannot be denied is that No More Drama was a rebirth for Mary J. Blige and served as a bridge to the second act of her career, which has seen her evolve into a classy diva as opposed to the rough and rugged vocalists that stole our hearts back in 1992. The undeniable deep cuts that made her previous offerings the masterpieces they were may be absent here, but overall, No More Drama is a solid effort on the part of Mary J. Blige. A classic it is not, but a quality album that still holds after 15 years.
20 Hilarious R&B Tweets Guaranteed to Keep You Entertained