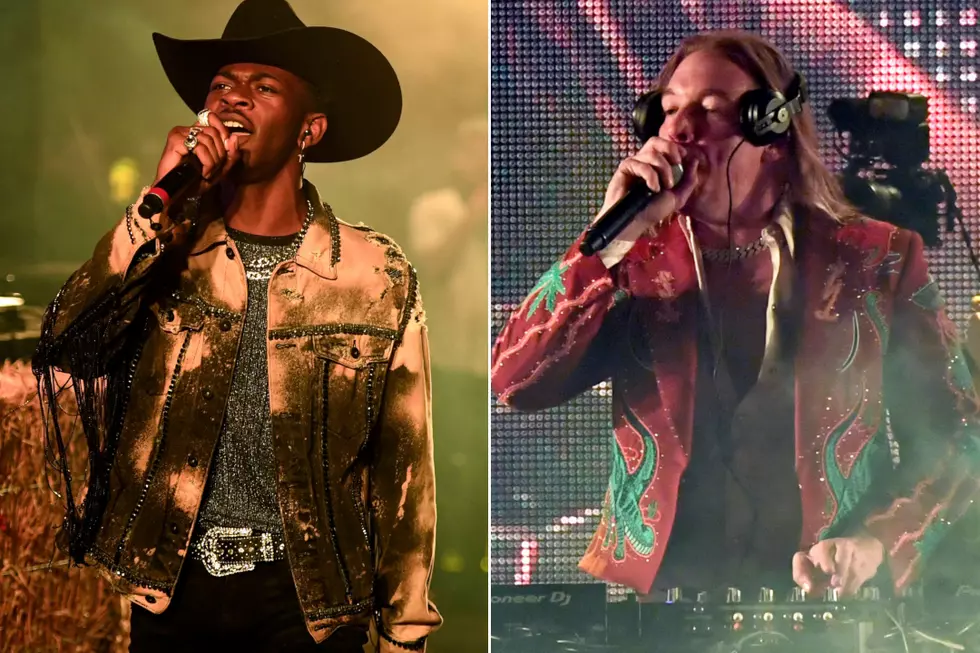 Lil Nas X "Old Town Road (Diplo Remix)": Listen
Frazer Harrison / Kevin Winter , Getty Images (2)
On Sunday (April 28), the country-rap superstar hit up California's 2019 Stagecoach Festival to perform "Old Town Road" with Billy Ray Cyrus for the first time live during Diplo's set. After Lil Nas X and Cyrus performed their version at the country music festival, Diplo debuted his remix. The new version of the Billboard Hot 100-charting single takes the song to all-new heights as it strays away from the initial trap vibe and takes on a more electronic sound.
The 20-year-old may have made a huge name for himself as Lil Nas X, but recently he said he's considering a change to his popular moniker. Last week (April 25), Nas X gave all his praise to the OG Nas and noted that he may find a new name out of respect for the Queensbridge MC.
"Nas is a legend and i never meant any disrespect by my stage name. i actually might change it in the future," Lil Nas X tweeted.
It doesn't sound like the "Old Town Road" remixes will stop any soon even if he does change his name. The Beyonce remix isn't happening, but Nas X still has a remix with Young Thug coming soon. Earlier this month, Thugger hit up his Instagram Live to preview the record before posting the clip on his timeline. The Atlanta rapper didn't have much to say about the banger in the caption. Instead, he lets the music do the talking with a snippet of the track.
Until Thugger drops the full version of his remix, enjoy Diplo's remix plus the full performance of "Old Town Road" below.
Read 10 Wild Stories That Took Place During Hip-Hop Tours