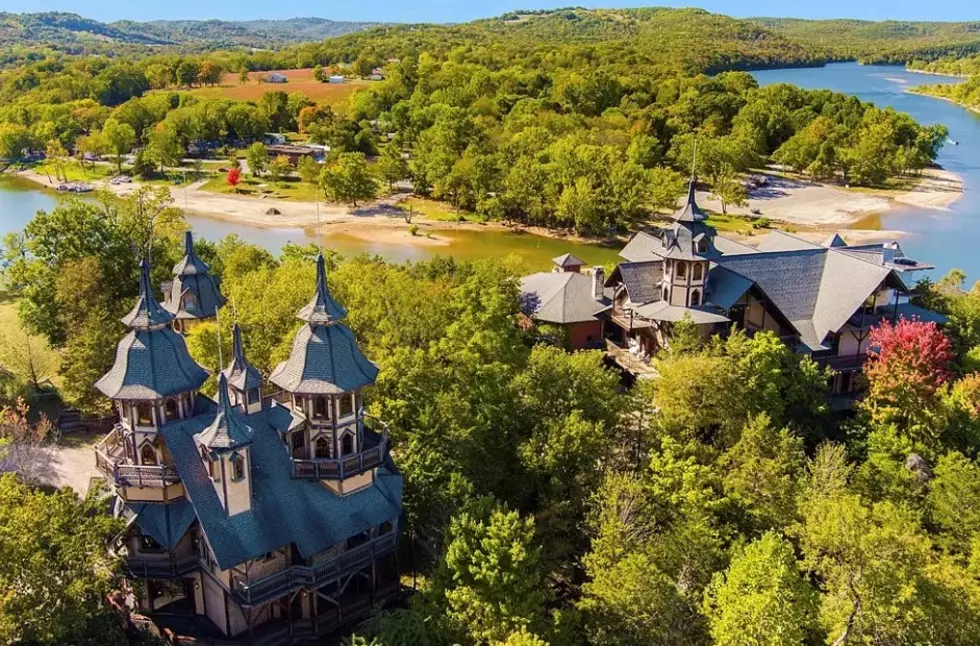 Look Inside This Stunning Lakefront Castle in Arkansas With 13 Bathrooms
Mike Parker, Prime Real Estate and Development via Zillow.com
If you want to feel like royalty you don't have to go to Europe to live in a castle. There is an absolutely stunning castle in Arkansas and it's on a lake.
Located at Table Rock Lake and close to the town of Beaver which is about 7 miles north of Eureka Springs.
You'll have plenty of room in this castle for family and friends and friends of friends. This castle has 11 bedrooms and 13 bathrooms. Just think, no waiting for the restroom in this palace. This castle is 15,000 square feet and sits on 17 acres. It's listed at $3.2 million. Which by the way seems like a bargain.
The views from this castle are amazing. I can just imagine sitting on one of the balconies after a hard day at work with a beverage in my hand. Wait, scrape that "hard day at work"  If I  live in a castle I ain't working.
According to Zillow.com, right now this castle is a private residence that hosts weddings, retreats and corporate meetings. The property is listed by Mike Parker with Prime Real Estate and Development.
Let's see what it this beauty looks like!
Stunning Lakefront Castle in Arkansas With 13 Bathrooms
Take a look inside this absolutely stunning lakefront castle in Arkansas.
LOOK: Here are the best lake towns to live in
Many of the included towns jump out at the casual observer as popular summer-rental spots--the Ozarks' Branson, Missouri, or Arizona's Lake Havasu--it might surprise you to dive deeper into some quality-of-life offerings beyond the beach and vacation homes. You'll likely pick up some knowledge from a wide range of Americana: one of the last remaining 1950s-style drive-ins in the Midwest; a Florida town that started as a Civil War veteran retirement area; an island boasting some of the country's top public schools and wealth-earners right in the middle of a lake between Seattle and Bellevue; and even a California town containing much more than Johnny Cash's prison blues.