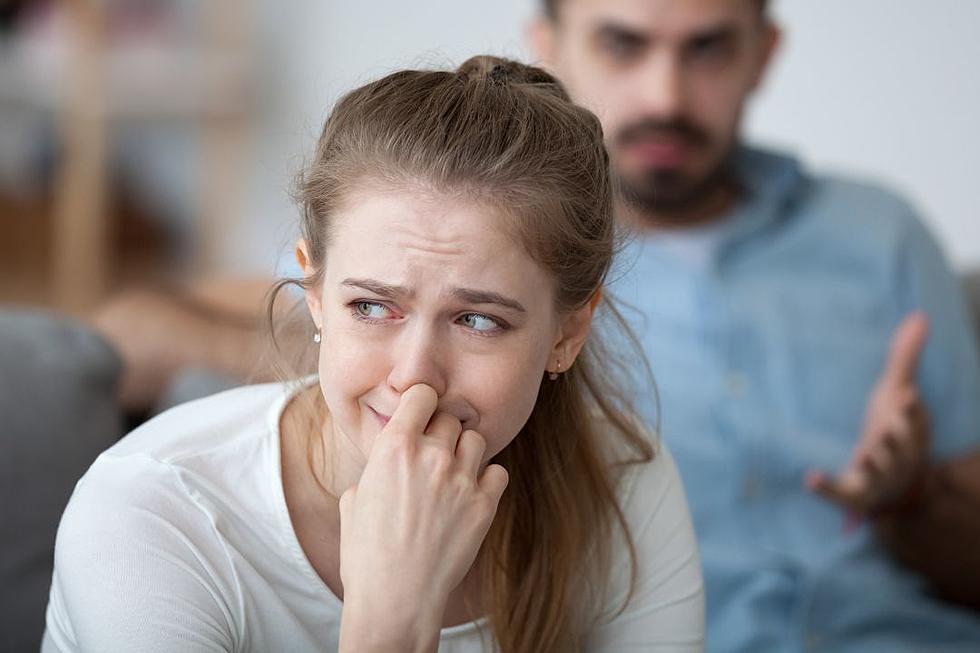 Woman Devastated After Husband Calls Her 'Ugly' in Front of His Friends
ThinkStock via Getty Images
A woman on Reddit was devastated after overhearing her husband tell his friends that he thought she was ugly.
"Last week my husband asked me if I was okay with his friends coming over because our daughter is only eight weeks old and we haven't been getting much sleep so we are very tired most of the day," she wrote. "And I told him that it was okay because he hasn't seen his friends for weeks and lately he hasn't had any fun, he just spends his time cooking, doing the laundry, taking care of our daughter and me, so I wanted him to have fun and relax for at least a few hours," she wrote.
"Well, his friends had dinner at our house yesterday and I stayed in our room until at one point I went downstairs to get my phone charger and I heard them talking," the woman continued on Reddit, adding that once she was downstairs, she overheard something that broke her heart.
"The wife of one of his friends is pregnant and they were talking about it, and I heard perfectly how my husband said that pregnancy is the 'best thing that happened to me' because he finds me much hotter now, that 'I was never more beautiful than when I was pregnant and now after giving birth,'" she explained.
READ MORE: Man Wants Overhears Fiancee Tell Friend She's 'Settling' by Marrying Him
The woman added that "if he only had said that I would be flattered, since not many men would say something like that about their wives," but instead he "kept talking and said something like every time he thinks about how I looked when we got married he thinks I was ugly because now I'm a thousand times prettier."
When she confronted him about what he said, her husband "apologized and said ugly is not the word he should have used."
"He said that if I had listened to the whole conversation I would know that he later said that he regretted having used that word because he also thought I was pretty before getting pregnant, that now he thinks I'm prettier and hotter because there's something that 'turns him on' when he sees me being a mother to his daughter, and honestly I don't even know what he meant, and I don't even know if I should believe that either," she shared.
The woman admitted that her husband's words "hurt" her self-esteem, and that now she can only think about him calling her ugly.
"I can tell that he feels terrible for hurting me but I don't know what to tell him because honestly what he said doesn't even make sense. I want to believe him and think that I'm just overreacting and being overly sensitive, but at the same time I remember that he called me that and feel terrible," she concluded.
READ MORE: Woman Hurt Husband Chooses Friends Over Taking Her Out for Date Night
Users tried to comfort the woman in the comments, with many suggesting her husband simply experienced a clumsy turn of phrase.
"I think this is a case of your husband being an idiot and trying to make a hyperbolic comment that 'you're so hot now by comparison you were ugly before' even though that's clearly not true. I would not worry about this. He also made this comment to another pregnant lady so it's clear he was probably trying to reassure her not to be self conscious of her pregnant/postpartum body because he's super attracted to yours. It sounds really wholesome and well intended but your husband is NOT good with words," one person wrote.
"This was a new father finding deeper emotional connection and attraction to the new mother of his child and imperfectly articulating it rather than genuinely thinking you were ugly previously. This is a fumbled at the goal line situation. I'd cut him some slack and tease him for the rest of his life, knowing that he thinks you're beautiful and that he's a moron," another commented.
"I think your husband very inarticulately was trying to say that you're more beautiful than he could ever imagine. And given the number of men who expect bodies to 'bounce back' and for women to uphold an unattainable standard of beauty, I think it's refreshing and wonderful, even if he is a bonehead for the way it came out," someone else weighed in.
Celebrity Pregnancy Announcements That Made Major Headlines
From
Beyonce
's record-breaking Instagram announcement to
Britney Spears
' first pregnancy, we've rounded up the most memorable celebrity pregnancies that made history in pop culture. Check it out, below.