Taylor Swift to Share "Some Really Cool News" August 13th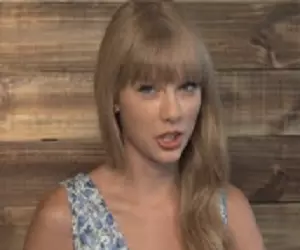 Taylor Swift will host a live Web chat at YouTube.com/TaylorSwifton Monday, August 13 at 7 p.m. ET. You can submit questions in real time using your YouTube account, and Taylor promises to share "some really cool news" during the chat.
Taylor's announcement probably has something to do with new music. She announced the details of her last album, Speak Now, in a similar Web chat back in 2010.
In A Video She Submitted To You Tube But Is No Longer Available Taylor said : "Hey, it's Taylor. So, I really want to talk to you about something. I would love it if you would join me August 13th for a live web chat. You can ask questions. I'm going to share some news with you. Some really cool news. I'm not going to go into too much, but it's cool. And you can watch it Monday starting at 7 p.m. Eastern, 4 p.m. Pacific. And go to YouTube.com/TaylorSwift to join it, and I'll see you there!"