Amber Rose Apologizes to Julianne Hough For 'Uncomfortable' 'DWTS' Misunderstanding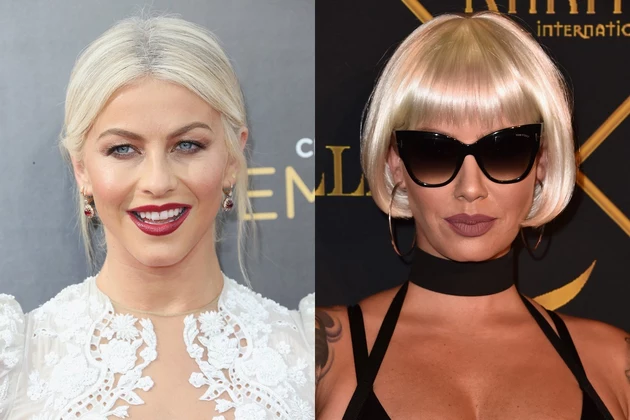 Amber Rose and Julianne Hough have buried the hatchet.
After the two ladies of Dancing With the Stars danced a tense metaphorical public tango over Hough's critique of Rose's dance last Monday (September 26), wording which Rose understandably took as "body-shaming," the two stars quashed their short-lived beef live on air last night (October 3).
After Rose's performance with partner Maksim Chmerkovskiy, the model and TV host used her time in front of the judging panel as an opportunity to apologize to Hough for taking her critique, in which she said Rose's salsa dance made her feel "uncomfortable," out of context.
"When you said that [I made you uncomfortable] I felt very embarrassed and I felt like you weren't talking about my dance," the out-of-breath contestant began. "But if I misunderstood, then I apologize."
Rose continued, "I'm a very positive person. I don't like to argue or bicker or make things weird. So moving forward I just want complete positive energy and let's just have fun!"
Smiling, Hough stood up to clap for Rose before responding.
"The thing that I love so much about dance is that dance is a universal platform for people to express themselves," she said. "Any person, whether that is age, height, body shape, ethnicity, sexual orientation… It's something people can express themselves to do. And for me I am a huge supporter of that and that alone."
Hough added that as a member of the panel, her only responsibility is to judge contestants for their performances—not their bodies or appearance.
"As a judge on this show, I'm here to solely judge you and everyone else in this competition for only the dancing," she explained. "So I want you to know that."
After performing a salsa routine on September 26, Rose later expressed on her podcast that she had felt body-shamed by Hough's feedback during the judging panel.
"I did feel body-shamed," she said. "You know, all the beautiful professional dancers that are on Dancing With the Stars, I mean they dress very sexy and they do the splits and they grind up on these guys and they look absolutely stunning and get a standing ovation… and me, and my body, my hips, my ass, my breasts made her uncomfortable."
Afterwards, Hough responded to Rose's accusation in a statement released to E! News, where she wrote, "To be clear, that was a produced package, not live coverage and they can put those sound bites anywhere" My 'uncomfortable' comment was about the fact that I felt like I wanted more out of the performance—when someone is doing a hot, sexy dance like that without the right amount of energy that is required, it can be uncomfortable to watch."
Rosebuds! @juliannehough did apologize to me for the way her comment came off. The crowd was clapping loud at the time #GirlPower ❤️

— Amber Rose (@DaRealAmberRose) October 4, 2016
Watch Amber's sexy tango from October 3, below:
Subscribe to Power 95.9 on
15 Celebrity Co-Stars Who Disliked Each Other in Real Life:

Source:
Amber Rose Apologizes to Julianne Hough For 'Uncomfortable' 'DWTS' Misunderstanding